Year of the Running Back Holds True to the Hype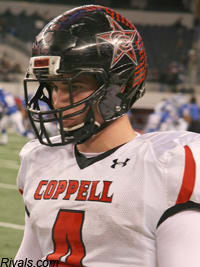 As usual the state of Texas has big time talents at running back and there's no question the four listed above have had plenty written about them, but the real key to this class has been the depth.
From the Red River, down to San Antonio, from points east to west, the state was loaded with guys who have the ability to break open a game at any moment. Our records only go back to the class of 2002 but this group is the deepest group to come out of Texas since 2005 when 39 backs inked with Division 1-A programs.
Of course the in state schools got their fair share of the talent as Texas Tech landed three backs, Texas, Baylor and North Texas landed a pair, while Houston, SMU and Texas A&M landed one back each.
The out of state schools got their fair share as well with Oklahoma taking a pair of backs along with California, West Virginia and Tulsa. The service academies even landed some Texas talent with Army and Air Force landing a back.
Below is the list of running backs from the state of Texas who signed with FBS programs on Wednesday:

TOC Senior Analyst
Email questions to:
[rl]