Spike Dykes: Coaching Icon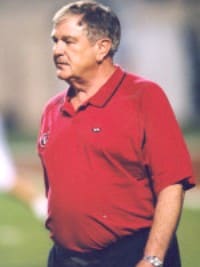 Spike Dykes never forgot his high school football roots
Spike Dykes often made big-city sportswriters scratch their heads with his countrified, folksy one-liners and tales about living and coaching in West Texas.
Despite taking recruits Texas and Texas A&M passed on, Dykes guided Texas Tech to six wins over the Longhorns and six wins over the Aggies during his 13 years as the Red Raiders coach. After many of those wins, a reporter would ask Dykes if this was his biggest win.
His answer never changed. It always went something like: "Well, I don't know. When I was at Coahoma in 1965, we beat Aspermont for the district championship, and I thought that was a pretty big win."
Big-city writers scratched their heads. There were two things they didn't understand about Dykes: He never forgot his high school roots, and he kept success in perspective at the different levels he coached.
"I never understood how someone could say the New York Giants beating the New England Patriots in that Super Bowl (XLII after the 2007 season) was more important than Coahoma and Aspermont was in 1965," Dykes said in a recent interview. "Sure, more people care about the Super Bowl, but they don't care any more than we did about beating Aspermont. Losing a big high school game doesn't hurt any less to the players involved than losing the Super Bowl.
"You know, college football is fantastic. But with high school football, these are kids that live in your town. You take the kids in your town and mold them into a team. It really is fun to see kids grow up from eighth-graders to starters on the varsity. High school football is hard to beat. The next levels are too commercialized."
Dykes, who grew up in Ballinger and played on the Bearcats' 1953 Class 2A state runner-up team, can remember details about the 1965 Aspermont-Coahoma game as well as any of his biggest collegiate wins at Texas Tech.
"I remember Aspermont was ranked No. 1 in the state (in Class 1A) and we were somewhere in the top 10," Dykes said. "We were both undefeated, but in those days, only one of us was going to the playoffs.
"The game was in Coahoma, and we moved it to Saturday night because there was a lot of interest in it around the area. We had seating for 1,400 fans, and they moved in bleachers for another 1,000. There were five or six hundred more standing. The stands were packed at 5 o'clock for a 7:30 game."
Coahoma beat Aspermont for the district title, then the Bulldogs beat Plains in bidistrict and Sonora in regional before falling to White Deer in the state quarterfinals.
Dykes coached at eight high schools during a 41-year coaching career, including Eastland, Ballinger, San Angelo Central, Coahoma, Big Spring, Belton and Midland Lee. When Dykes became Lee's head coach in 1980, the Rebels had only one playoff win in their entire history, which began in 1961.
Dykes' 1983 Rebels experienced some extreme highs and lows on the way to their first Class 5A state championship game. They actually lost two district games to two teams - Central and Abilene Cooper - that didn't make the playoffs. But when Central and Cooper both faded, and Lee beat Odessa Permian, 20-7, Dykes finally put the Rebels in the playoffs in his fourth and final season as their coach.
Lee still enjoys the unique distinction as the only team to beat Permian twice in the same season. In a state quarterfinals rematch before 32,000 fans in Lubbock's Jones Stadium, the Rebels beat the Panthers 20-0. The Rebels, whose backfield included fullback Isaac Garnett and halfbacks Walter Jones and Tyrone Thurman, eventually lost in the state finals to Converse Judson, 25-21.
"That Lee team had 56 seniors, and every time the ball was snapped, 45 of them were not playing," Dykes said. "Something like that can be a problem, but they had a 10-year reunion for that team in 1993 and about 50 of those seniors were there. You couldn't tell who the starters were and who the backups were. They weren't all rushing over to the starting quarterback or the starting running backs. They were just all Lee Rebels, all a part of it.
"That really shocked me that night. It showed how special that group was."
In Dykes final game at Tech before retiring in 1999, he beat Oklahoma in the last game the Sooners lost before winning the 2000 national championship. Someone asked if this was his biggest win, and, finally, Dykes gave the answer big-city writers had sought for 13 seasons.
"I've been doing this a while," Dykes said. "I don't guess I've ever had a better win. Aspermont-Coahoma in 1965 was the biggest. But I believe this one topped it."
Surely, the 1965 Coahoma players understood.
Mike Lee is a free-lance writer who lives in Goldthwaite, Texas. He can be contacted at michaellee7@verizon.net.