Abilene loses 07 state Defensive Player of Year to injury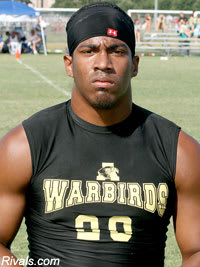 Abilene is undefeated and a favorite among the Class 5A Division II state playoff qualifiers. But the Eagles have lost linebacker
Chris Williams
for the season.
Last year's Class 5A Defensive Player of the Year was injured when he tripped a first-down chain, stumbled and landed with his left knee on a cement curb separating the field from the surrounding track. The 6-1, 220-pounder has committed to Nebraska.
"Chris tore his ACL and will require surgery," Abilene coach Steve Warren said Tuesday.
Abilene (10-0) plays Mansfield (6-4) in the first round Friday in Stephenville. The Eagles have had a record-setting offense with senior quarterback
Stephen Warren
and running backs
Zach Bass
and
Herschel Sims
. Sims has burst onto the scence as a sophomore to become a top prospect for 2011. the 5-9, 190-pounder is an explosive runner but can catch and has returned several highlight video kick returns for touchdowns.
But Williams was the anchor of the defense _ making big plays and hits from sideline to sideline. Ironically, it was Williams' tackle of Southlake Carroll quarterback
Riley Dodge
that ended his season with a shoulder separation in last year's quarterfinal that led to Abilene ousting the defending state champ.
Williams was among the most heavily recruited linebackers in Texas, receiving offers from programs in the Big 12, Southeastern Conference and Pac-10. He visited Nebraska in October and committed shortly after.
Williams was named the Defensive Player of the Year on The Associated Press Sports Editors Class 5A all-state team last season. He finished 2007 with 90 tackles with 32 tackles for loss and 13 sacks as the Eagles went 13-2 and advanced to the Class 5A Division II semifinals.